Sewee Preserve - Life in Harmony with Nature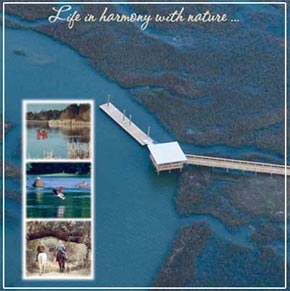 A hawk takes to the air, soaring high above the thick forest, wings spread against the crystal blue sky at Sewee Preserve. As nesting season begins, the diligence enlisted in every phase of this 500-acre conservation development continues quietly below, always with the goal to preserve, protect and respect all the wildlife that calls Sewee Preserve home.
Located just north of Mount Pleasant, Sewee Preserve provides a key link in the preservation of a strip of pristine South Carolina coastline. This property completes a seamless network of over 300,000 acres of "greenbelt," which stretches from Sewee to Santee, and includes the Francis Marion National Forest and Cape Romain Wildlife Refuge. Developer Dennis Avery and his partner, William Dudley, protected more than 400 acres of this property through a conservation easement, ensuring that the land will be permanently protected from further development, offering safe haven for the wildlife that continues to thrive there.
Sewee Preserve Vacant Land for Sale
According to Avery, the remaining property is divided into just 30 home sites on one contiguous block of 90 acres that runs along the salt marsh of Sewee Bay. "The goal of preserving this special tract of land is to demonstrate that it is possible to balance ecology and economy," states Avery. "By offering super low-density housing, we are able to protect the Lowcountry's natural heritage."
To further enhance this wildlife habitat, Sewee Preserve has established the Sewee Partnership for Birds of Prey with the South Carolina Center for Birds of Prey. The initiative works to improve and increase habitat suitable for eagles, owls, osprey, hawks and other raptors at Sewee Preserve. Property owners are honorary members of the center, which rehabilitates hundreds of injured birds each year and regularly releases them back into their natural environs.

Avery says that the "development side" of the project is nearly complete. "We added a water and sewer system to our original plans," notes Avery. "We decided to go the extra mile because a water and sewer system is environmentally superior to wells and septic tanks."
The lake, which will serve as a centerpiece for the development, nears completion. "It's a 50-acre freshwater lake, which is, to the best of our information, the biggest lake in Charleston County," comments Avery. "We've created a point on the lake that's full of oak trees. We're also building a lodge-style boathouse with kayak and canoe racks, and a dock. It will be a place where property owners can enjoy the outdoors."
Avery notes that the community dock leads directly to Whiteside Creek, with views of Capers Island, the Isle of Palms and the Intracoastal Waterway.

As the concept of a conservation development turns into a reality, interest in the unique lifestyle offered at Sewee Preserve has piqued. "We've sold two more lots," notes Avery. "After so much careful preparation, it's exciting to finally see a house coming out of the ground."
That house is being built by Pat Ilderton of Ilderton Contractors Inc., one of Sewee Preserve's preferred builders. Recently, Dolphin Architects & Builders earned a spot on the development's preferred builders list, and have plans on the drawing board for another one of the neighborhood's first home.
"I think Sewee Preserve is very unique and very special even in the Lowcountry where we have so much natural beauty," comments Walter Seinsheimer Jr., chairman of Dolphin Architects & Builders. "The things that are special – obviously the 400 acres of conservation area that is usable, not just sitting there, while the houses are close enough together to give a sense of community, yet sited to give privacy."

The community is laced with over seven miles of old hunting and farm trails for exploring by foot, bicycle or horseback. The trails lead to the community dock, Sewee Farm, the lake, nature observation areas, and neighboring Bull's Bay Golf Club.
"There's no where else that I know of that you can live in the midst of nature and still be so close to daily necessities and entertainment," he adds.
According to Seinsheimer, his firm has completed the design phase of the 5-bedroom, 4fi-bath home. Described as "sophisticated rustic" with a "river house feel," the home will feature a "reverse plan," with the living level on the second floor to maximize the views that Seins-heimer describes as "absolutely spectacular."
Home sites range from 1.5 to 3.75 acres in size, with prices beginning in the $600,000's. Property owners may choose their own builders and house plans in accordance with architectural design standards developed by the Sewee Preserve Architectural Review Board. Sewee Preserve has established guidelines for environmentally-sensitive home-building and lighting technologies and the use of indigenous plants for landscaping, all designed to better blend with the serenity and natural beauty of the property.
Information about living your life in harmony with nature is available by visiting www.seweepreserve.com or by calling Avery at (843) 849-5509 to arrange a visit.
By Patra Bucher