Park West is Methodically Developing its Appeal to Most of Life's Stages
When work on Park West began in 1997, its developers, Pat Tomlin and Bill Bobo, stated that they intended to create a community that greater Mount Pleasant would be proud of and that residents of Park West would to proud to call home. As Cambridge Square, located at the very heart of the community, begins to take shape, it is abundantly clear the two men have succeeded in delivery exactly what they promised.
Reminiscent of Old Town USA, Park West is a magnificent family-centered community, where the benefits of combining schools, recreational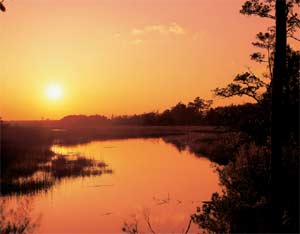 outlets, shops, offices and residential is clearly visible in what has become a true village in the historic sense. It is indeed a community where one can live, work and play without ever leaving the premises.
Nestled in the shadows of moss-draped oaks, tall pines, palmetto trees and the natural splendor of the Lowcountry, this 1,700-acres situated along Hwy. 17 in Mount Pleasant is a community of incomparable beauty. Bordered by the forest preserve of Laurel Hill Plantation and four and one-half miles of the scenic Wando River and the long, winding Toomer and Darrell creeks, Park West epitomizes Lowcountry living with serene water views and all the beautiful wildlife that forested, waterfront and marsh land attracts.
The grand entrance, with six picturesque reflection pools and cascading fountains, welcomes residents to a lifestyle that is focused on the family. Masterfully planned for first-class living, Park West features 20 distinctive neighborhoods, offering housing options for most of life's stages in a variety of styles, sizes and prices. Home styles range from small cluster homes to elegant townhomes to imposing single-family waterfront and marsh view homes. Each neighborhood has its own entrance and is buffered by green spaces, yet sidewalks and biking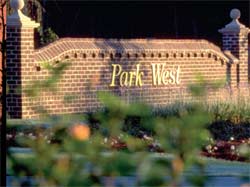 and walking paths link all neighborhoods and the community's retail shops and professional offices. Additional neighborhoods to include condominiums, live-work townhomes and retirement homes are planned.
Park West boasts the most up-to-date schools in the state of South Carolina, with two elementary schools and a middle school located on one beautiful campus within the Park West community. The new state-of-the-art Wando High School is located adjacent to Park West, and is easily accessible.
A number of in-town conveniences are either in the works or already complete at Park West. The Offices at Park West, for example, is a medical complex that offers a number of health services for the entire family, including a veterinarian office for pets. The Shoppes at Park West and the Plaza at Park West offer a variety of retail shops and personal services including a modern Publix grocery store, beauty and nail salons, restaurants, and dry cleaners. The Plaza at Park West will eventually be home to a number of executive offices, as well. East Shore Athletic Club will be a fullservice health club in a state-of-the-art, bi-level facility. It will include cardio equipment, strength training equipment, free weights, indoor pool and spa, nutritional training and group fitness.
And then there's Cambridge Square... At the very heart of Park West is the town village of Cambridge Square, a complement to the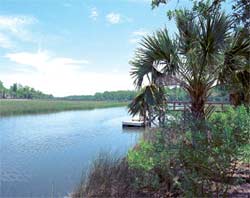 community's contemporary neighborhoods. In Cambridge Square, the vision of a walkable neighborhood has been fully embraced: tree-line streets with sidewalks that are more inviting to pedestrians than to cars; roads specifically designed for traffic calming; alleys that lead to parking areas situation behind homes and offices for cars to park, trash pick-up and utility servicing.
An easy walk, bike, or car ride from every home in Park West, Cambridge Square is a community gathering place that will feature all that main Street USA offered in days gone by – in-town living, specialty shops, personal services and professional offices, a general store, the town square, children's playground and parks, and the Park West Swim Club.
Each component of the Park West has been carefully designed to reflect the forgotten pleasures of small town life. Schools, child care, children's playgrounds, sports and other recreational activities, parks, a church, personal services and professional offices, retail shops, restaurants and a town square all combine to create a community that residents are proud to call home because it is a community for all of life's stages... a place where families can grow, and grow closer.

By Patra Bucher